When you run an eCommerce store, you will be more than aware of the fact that your design says a lot about your business, and ensuring that your design is up to scratch can mean that you are likely to attract more customers to your store and encourage them to make a purchase while they are there. If you don't understand how to create themes yourself, then the great news is that Shopify has a number of free Shopify theme options that you can upload instantly – completely for free, and included in your plan.
There are many reasons why it is a great idea to upload a free theme – and one is that you don't need to worry about hiring a Shopify designer to create your theme for you. In addition to this, your theme will be up and ready to use as soon as you like, and this meaning that you don't have to waste any more time at the planning stage.
The benefits of choosing the best free Shopify theme for your store
In order to make sure that you attract the right kind of attention to your store at all times, you need to be able to choose the perfect design for your needs. It is vital to think about every single detail, from the colours that you choose to display, to the way that links are shown to make it easier for your users to click. In addition to this, it is important that your theme really reflects your store and what you choose to sell. If there is a clear and consistent message from your store, this will encourage people who visit to have a positive attitude towards it, which means that they will almost certainly want to stay and make a purchase. Not only this, but actually buying products is a lot easier if your design is up to scratch, and for this reason you should take the time to really stop and think about the theme that you are choosing to use for your store.
This blog will take you through some of the best free Shopify theme options available for you to choose from, meaning that you have an even better chance than ever before of making the perfect decision. It may take a little time to look through all of the themes, however you are sure to be glad that you made the effort when you reach the end of the process and an look back to see a perfect store that you have created.
Brooklyn
Designed with clothing stores in mind, this theme supplies a very simple design plus call to action – which means that visitors to your website are likely to be encouraged to go right into your store and make a purchase. The design is nice and clean, with nothing to distract attention from the task that you want your visitors to complete.
Simple
As you might have guessed from the name of this theme, simplicity is key here, and this means that your website will look elegant without having to worry about having all the fuss of a complicated design. You are able to make it your own easily with a great number of options that are available to you, and this gives you the freedom to really make your mark on the theme, even though it is one that has been ready made for you. You are able to use this theme on a mobile, meaning that this is great for those users who wish to make a purchase from a mobile phone or tablet.
Pop toy
If you are running a store that is aimed at children's toys or clothes, then this design might be the perfect thing for your needs. The colours used on this design are beautifully soft and easy on the eye, and there is nothing to complicate the design that is available. Wonderfully childlike, this is the ideal theme if you want to deal with anything to do with children.
Lookbook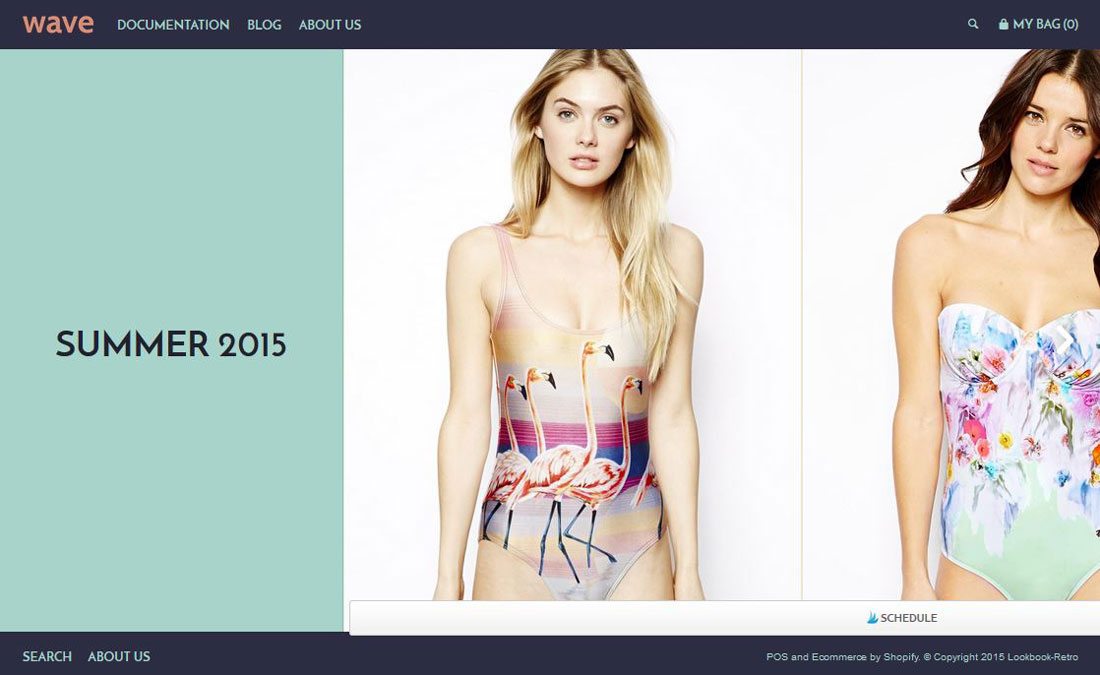 When it comes to the perfect theme for a fashion store, it is important that you are able to find one that can really allow your visitors to see all of the items that you have available in a way that makes them look incredibly attractive and pleasing on the eye. If this is something that you are searching for, then the Lookbook theme may well be the ideal thing for your needs. This design allows you to use sideways scrolling to work your way through the products, meaning that the store is incredibly responsive, and enjoyable to work your way through. The fact that the website is genuinely nice to use means that your customers are likely to appreciate their experience, which may well make them much more likely to return in the future.
Supply
There are a number of colours that you can choose from with this theme, and the recommended ones are blue, soft green and dark. This theme is perfect if you want to run a professional looking store with the option to have a number of different product categories easily displayed as a key part of your layout. If you are looking to sell a number of products, then breaking them down into categories in this way could make things much easier. This design gives you the opportunity to add items to product pages even when it has been published as live. If you are looking to use the product review app as a part of your store then this theme could be perfect for you, as it is supported.
New Standard
There is a lot to be said for minimalism, and many people find that this type of design is perfect for online stores as it means that the attention of customers is kept on the products rather than worrying about trying to navigate a complicated store, which can be quite off-putting if it is difficult. So, if minimal is what you're after, then this theme is certainly the one that you need. Another great addition to this theme is the fact that it has options for mobile layouts, meaning that your customers are able to use your site no matter which device they are choosing to view it from.
Pop – Bone
This is a good theme to use if you're thinking about selling anything to do with cosmetics or pharmaceutical products. The design is very simple to use, and comes with a section to feature products, so that if there is anything that you particularly want to bring to people's attention, you will be able to do this easily. This is also a great way to make the most of featured sales, if there are certain special offers on in your store.
Solo
This design was originally made for stores that sell furniture, though of course it can easily be adapted to other types of stores, too. There are no background images in this design, and this means that your attention will be solely drawn to the product which is placed right in the centre.
Venture
If you're looking for a look that is bold, and up to date with modern trends, then this could well be the perfect theme for you. The theme is aimed towards sporting stores, such as snowboarding or boxing, but you do have the option of using it for other types of products, too. Even if you don't know all that much about store design, you will be able to make this your own with ease, thanks to the easy to use options that the store has available for you. There is also the option of adding a slideshow to your homepage, which means that you are able to really show off some of your products if you should choose to.
Boundless
Everyone says that pictures paint a thousand words, and if you would like the photos of your products to be the main focus of your store, then this theme might be the perfect choice for your needs. Choosing this theme would mean that your visitors were immediately met by photos of the products that they might choose to buy, and this means that their attention would be drawn in just the right direction. There are a number of ways that you are able to customise this theme, meaning that you have the best possible control over exactly what your store looks like when it is completed.
Ultimately, it is clear to see that there are many different options when it comes to choosing a Shopify design. With this being the case, there is no need to worry about whether or not you have the ability to create a theme on your own – as there are enough free ones available to make sure that you are able to get everything that you need to meet your requirements. However, after you begin making sales, it is recommended that you upgrade to a more sophisticated Shopify theme, that is customized by Shopify experts. After all, having the perfect theme for your store really can make a huge difference, and you should see that this reflects in your sales figures at the end of each month.
http://shopili.com/wp-content/uploads/2016/07/eighty-three-responsive-shopify-theme.png
300
590
Jo Cashmore
http://shopili.com/wp-content/uploads/2016/05/favi-white.png
Jo Cashmore
2016-07-26 12:18:23
2016-07-26 12:28:18
Best Free Shopify Theme